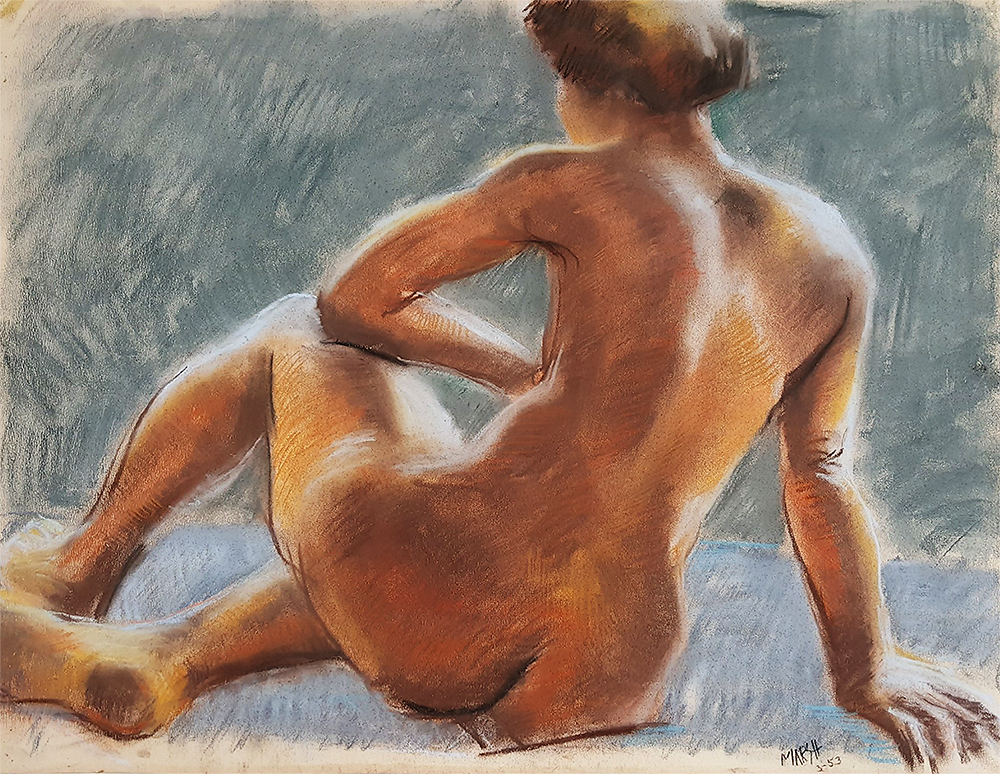 Reginald Marsh
American, 1898–1954
Sitting Nude, 1953
Pastel on heavy paper mounted to  illustration board
16 × 25 17/20
Signature: Signed lower right Marsh  3- 53
Unframed
Later in his life, Reginald Marsh was a teacher at the Art Students League in New York and the Moore Institute of Art in Philadelphia. This work reminds one of a typical life drawing class. It shows the joy and spontaneity of drawing from a live model. The nude model sits in a seamless environment with just a hint of the edge of cloth she sits on. Sharp light pours in from both sides. Beige and flesh tones contrast with Payne's grey to create a visual vibrancy. Elongated tapered lines that go from thin to thick and back to thin again define the exterior shape of the calf, thighs, buttocks and arm. While the interior parts of the body are described in quick strokes of closely spaced parallel lines of equal measure. This hatching emphasizes the contour of the forms and creates the illusion of volume. It's a signature technique of Marsh's figure renderings. The rapid brush strokes are echoed in foreground cloth and background. Although this is a loose rendering, there does not seem to be a line out of place. For an artist of less accomplishment, this type of life study could come off as being expected or clunky. Yet Marsh's consummate knowledge of anatomy combined with his rapid-fire technique of stroking pastel to paper, makes this stationary image come alive with movement. Weight-bearing right arm bulges inward in a perfect way. The underpart of the foot. shows his masterly understanding of anatomy. We look down at the foot in proper perspective as it rests effortlessly on the surface . The work was done one year before his death.
It's condition is excellent. Work is framed in a simple period frame.